Creating a beautiful smile requires a commitment from us and the cooperation of you, our fabulous patient. With that in mind, we are excited to introduce our Smile Rewards Program!
Our program was created as a way to recognize all of your hard work by awarding you with fantastic rewards as you progress along your orthodontic journey.
You can check your points every time you come into the office for your appointments. Just ask any of our staff members! You can redeem great prizes by sending us an email.
Smile Rewards Prize Redemption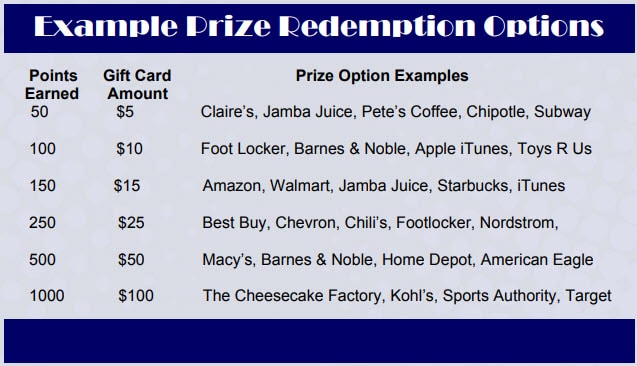 Earn Points on your Smile Rewards Card
Points will be awarded during each appointment for outstanding cooperation in each of the following areas. E-mail us or speak with any of our team members to instruct you on how to redeem your points!
Reward Rules
Reward card must be present to receive reward points
Replacement cards are available for a 10-point purchase
Rewards are given at regularly scheduled appointments (non-emergency appointments)
Points or gift cards are not redeemable for cash
Points and prizes are subject to change at any time
Dental reward points are available when returning a completed dental certificate
Reward points given outside the office require written documentation (i.e. report card & community service)
You must have a signed Authorization Release Form to redeem any patient reward prizes